About - Bob Wyber - contemporary jewellery artist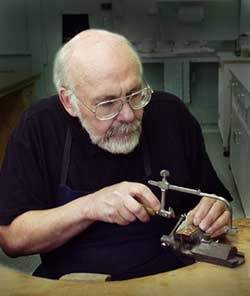 I live and work in Dunedin, New Zealand. I have an MA Hon's and originally trained as a Town Planner. Following my retirement, I commenced full time jewellery making in 1999. Until 2011 I had my own workshop and gallery which was located in lower Stuart Street, the Contemporary Jewellery Gallery.
Why do I make jewellery?
I just do.
Much of my inspiration comes from the shapes, forms, textures and colours of the South Island, New Zealand environment. I work in sterling silver, gold, copper, mokume gane, pounamu (greenstone), paua and Queensland boulder opal. Please check out my views on environmental issues.
Most of my work is individually hand made using simple, traditional hand tools and techniques. It is one of a kind or very limited series.
The pieces that give me most satisfaction in the making are those that I hammer forge and draw out of a single piece of metal. My belief is that the designs, the materials and the surface tool marks in each of my pieces should speak for themselves.
Where do my ideas come from? Looking at things and seeing design possibilities, picking up small objects and turning them around, extending the design possibilities of existing pieces, and third party constructive criticism of my existing designs.
Some people comment on what they perceive as a Japanese design influence in some of my pieces. That will be because over the years I have looked at many collections of Japanese ceramics and sword fittings in antique shops, museums and in specialist books. One cant forget good design after one has seen it.
Most of my designs are evolutionary. As I can't draw, when I have an idea, I make up a prototype and then think about what looks right and what doesn't. I go from there.
During the 13 years that I had my own retail shop with workshop, I wrote down (in a series of note books I kept at my bench), most comments that were made to me, (or I overheard), regarding my pieces. The unflattering comments along with the good. About once a month, after I had forgotten who made which comment, I used to review the notes, go look at the piece(s) in question, and do my best to take an objective view of my own work. As often as not the criticism was valid, and I modified the replacement piece accordingly. Hence evolution of design.
Many of my recent designs incorporate the Koru. It is the unfolding tip of a fern frond that signifies new life and a new beginning.
I invite visitors to New Zealand to search out examples of my work at the Galleries where my jewellery is represented. They are the first 12 shops, design stores, galleries, ecosanctury and museums shown on the combined Galleries and Links page.